How Cancer Support Groups Online are Making an Impact
Many people with cancer choose to connect with others online to help them find support and inspiration through a difficult time. The diagnosis of cancer is a traumatic life event that often will cause emotional upheaval and intense psychological distress. Following diagnosis, people with cancer need to endure multiple appointments, an intense treatment regimen, and periods of time solely devoted to recovery. Accompanied by extreme emotions such as fear, anger, and sadness, enduring cancer can be physically and emotionally overwhelming. 
These emotional and psychological burdens do not have to be suffered alone. If you have been recently diagnosed with cancer or are already going through treatment, you may be experiencing some of the previously mentioned psychological stressors. Remember you do not have to face this complicated journey alone! Cancer support groups offer you a place to share your fears and anxieties and a means to receive emotional support from other people living through a similar situation. Online cancer communities make an impact on the lives of many people enduring cancer treatment in a positive light by offering support and empowering knowledge.  
Background
Online cancer support groups are meetings that take place online in a variety of forms including chat rooms, social media, and live video conferencing. These support groups are very beneficial for people who are in need of support because they offer cancer patients a place to learn new information about their disease while receiving support from other people who are going through similar experiences. The groups are often led by oncology professionals or cancer survivors who are trained moderators. The number one reason why a person will join an online cancer community is for the support itself. Many people newly diagnosed or who are living with cancer find that their loved ones and family do not provide the support that they need. Cancer support groups also offer an opportunity for you to learn about the different treatments available for your specific type of cancer and to learn from others. The benefits of an online cancer support group include:
A place to exchange useful information

A place to receive and give emotional support

Widens your perspective on diagnosis, treatment, and prognosis
Online communities (typically found on social media platforms) offer people living with cancer a place to connect to people who also are living with cancer all around the world. An online cancer community is an ideal place to receive support  if you live in a rural place or need to self-isolate to protect yourself from harmful viruses. These groups offer you a place to connect with other people who are living with or fully recovered from cancer. In these support groups, you can receive support by sharing stories and exchanging information about treatment options. Keep in mind that anything you read about or discuss online is anecdotal and check in with your doctor to make sure what you hear is valid. 
Positive Impact of Online Cancer Support Groups
According to a recent study conducted by Healthline on the state of cancer, 89% of patients and caregivers go online in search of medical information. Of these participants in the study, almost half ended up joining an online cancer support group. This study revealed that cancer patients need access to medically accurate information and a place to receive understanding and supportive care of their experience with cancer. The study also revealed that almost 50% of the participants went online on the day of their diagnosis. Lastly, 80% of the study's participants stated that online cancer support groups and forums had a positive impact on their cancer experience due to the emotional support they received and information learned about treatment. 
Talking About Cancer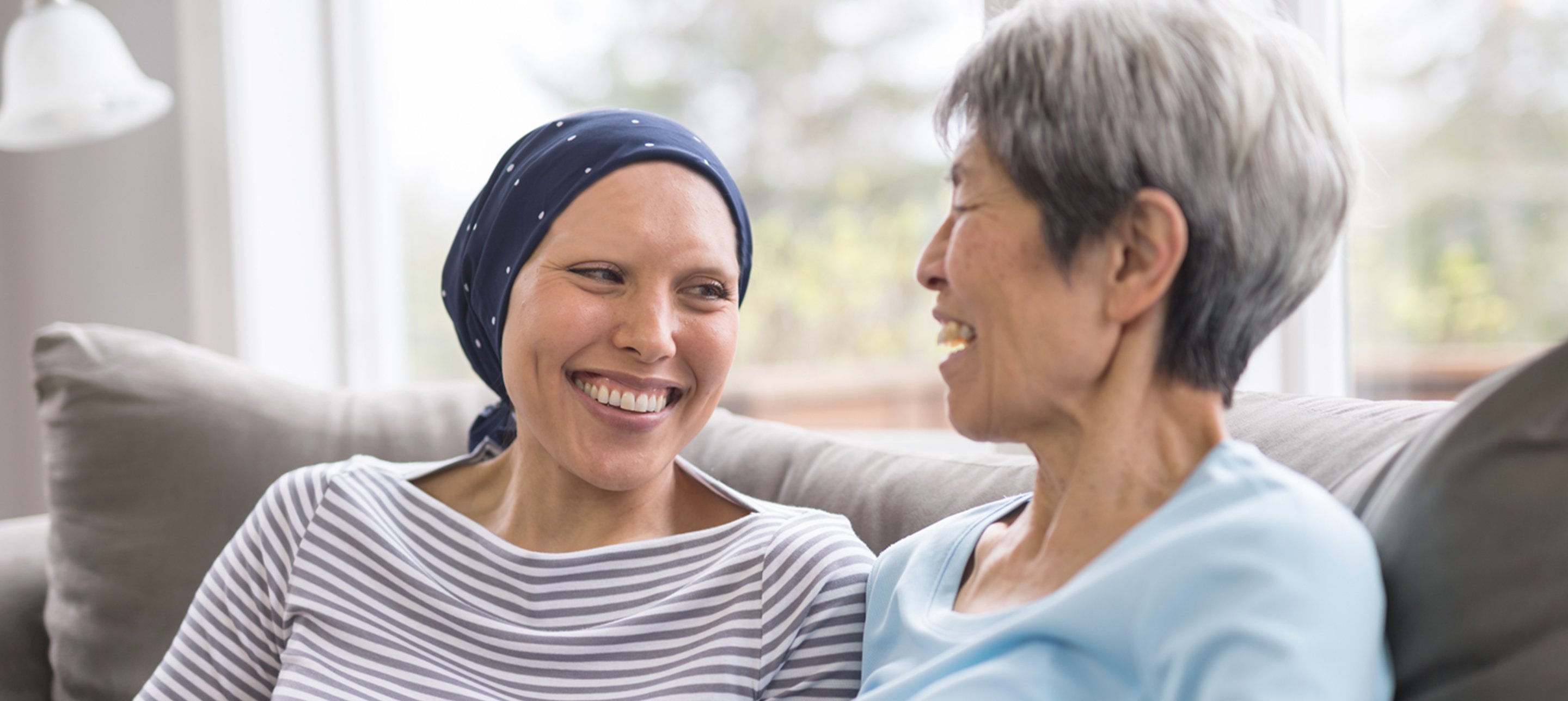 One of the most positive aspects of joining an online cancer community is meeting people who you feel comfortable enough to share your feelings with in a space without judgement. Simply talking to another person about the illness helps you to learn how to deal with the reality of being diagnosed with cancer. In an online support group, you meet people in a virtual setting who can share their own personal experiences with cancer while listening to your own. Many people who choose to join an online cancer support forum enjoy communicating with their peers by reading and writing because it helps them to cope with a stressful situation. Additionally, you are able to interact with group members at a time and place which works best for you and at your own pace. 
Information Is Received at Your Own Pace
There are many different ways you can participate in an online cancer community, including:
Chat rooms

Instant messaging

Website

Email

Social Media Platforms
In these spaces, a participant is able to communicate by posting questions or sharing stories, answering other people's questions, or through direct conversations. Some people will share resources such as journal articles or healthy recipes. You may join a community by simply clicking a button or you may be asked to fill out a form that needs the approval of a moderator or group owner. 
Many patients feel that the information they receive at an appointment is overwhelming and delivered all at once from either their healthcare provider or a team of providers. Alternatively, the information shared in an online forum is delivered in a way that is manageable – slowly and in small amounts. You may find that group participants may work together to choose a topic of discussion that can lead to a wide range of discussions. You may prefer this type of information acquisition over that which may occur at an appointment with your oncologist where you are overloaded with details without the time to process the information. These online groups can help you to process the information learned at appointments and ask questions to clarify things you do not understand. Of course, any information obtained in these groups should be openly shared with your oncology team to make sure the information is correct and not tainted. 
Helps to Normalize Your Experience With Cancer
How a cancer diagnosis changes your life! Your experience with cancer is a life-changing journey that is met with multiple challenges and obstacles, physical and emotional. At times, you may feel that there is nothing normal about your life and you may feel hopeless and helpless. However, connecting with other people can help you lift out of these feelings of hopelessness and confusion into a positive place. An online cancer community offers a place for you to connect and exchange information and share stories with people around the country, and even the world. Meeting people of all ages, genders, ethnicities, and cultures living with cancer can open your mind and heart to accept your diagnosis and face treatment with a strong yet gentle approach. Talking with other people helps to normalize the new changes in your life and ground your experience into a place that is manageable and not so out of control. 
Provides Recommendations for Managing Treatment Side Effects and Lingering Symptoms 
Online cancer communities make an impact on your life by offering you a resource rich in advice and recommendations on how to manage adverse side effects from treatment. Groups members are often at differing stages of diagnosis, treatment, and recovery. Because of the diverse background of group participants, members can share coping strategies on how to reduce or manage the side effects of surgery and pharmacological interventions. You may learn resources that offer mindfulness therapies such as yoga or art therapy. You may also learn about natural and healthy interventions that help reduce the severity of symptoms and improve your recovery time. Of course, anything you learn in these communities you will share with your physician to ensure the recommendations are safe for you to use and are not contraindicated, dangerous, or quackery. 
Online cancer support groups are making an impact on millions of people's lives worldwide. However, if you choose to join one or a few of these types of groups, be sure to join a community that provides positive support and valid information. Steer clear of groups that ask you to pay money for a membership or those that seem to offer a miracle cure for cancer. Most peer support groups that take place online offer you a safe and secure virtual space for you to connect with other people living through similar challenges in a way that builds your confidence and empowers you to continue on your treatment journey in health and tender self-care.  
References
Eberly, I. (2017, December 05). Healthline reveals "State of Cancer" study showcasing digital information's influence in patient and caregiver treatment decisions.
Gupta, T. & Lidia Schapira. Online communities as sources of peer support for people living with cancer: A commentary. Journal of Oncology Practice, 14(12). Retrieve from ASCO: 
Schapira, L. (2018, October 18). Online cancer communities and you: 4 questions to ask. Retrieved from Cancer.Net: 
Van Eenbergen, M. C., Van de Poll-Franse, L., Heine, P. & Floortje Mois. (2017). The impact of participation in online cancer communities on patient reported outcomes: Systematic review. JMIR Cancer, 3(2). Retrieved from JMIR Publications: