Can Attending Online Cancer Support Groups Boost Morale?
Being human means that when a traumatic change occurs in our lives, we experience a stress response that can cause a great deal of emotional and psychological distress. A cancer diagnosis is a highly stressful event and it is only natural to go through a cascade of emotions, including anger, fear, frustration, and hopelessness. So many people will carry the burden of managing cancer without choosing to reach out for support outside of their immediate supportive circle. Others may not have access to a healthy support system at home and are simply unaware that there is support available to them elsewhere. Cancer support groups are an excellent place to lift people out feeling hopeless and alone into a lighter perspective on life with boosted morale. These groups typically take place in-person and online. For many people with cancer, attending an in-person support group is difficult due to being immuno-compromised and the commute. Fortunately, there is a diverse choice of online cancer support groups for you to choose from for those who are unable to attend in-person support meetings. 
Background: Online Cancer Support Groups
You may have heard of cancer support groups through your healthcare provider or therapist. Support groups are meetings that take place in person or online for people with cancer or for anyone who has been touched by the disease.  Cancer support groups are a place that people with cancer can meet to share their lived experience in a supportive and safe environment. Support groups can offer a space where you feel safe to express any fears you are internalizing without the pressure of family members or friends and increasing their worries. Typically, cancer support groups take place in person, through live video or phone conferencing, and online. Online cancer support communities are widely represented on the internet and may be a preferred option for you to get help in the comfort of your own home and on your own time schedule. 
Online support meetings can take place in webinars, "chat rooms", social media, and in moderated discussion groups. These meetings are ideal for many cancer patients because they do not require traveling, limit exposure to pathogens, and can be scheduled in a way that fits your schedule. Many cancer organizations sponsor online support groups using social workers who specialize in oncology as moderators. The moderated discussion groups are usually led by trained moderators who are well-versed in the knowledge of cancer, including treatments and the complexities of the disease. 
Carrying the Burden of Living with Cancer
A cancer diagnosis can cause a cascade of emotions within a person, including fear, anger, sadness, and hopelessness. The treatment can be emotionally and physically exhausting and many patients suffer periods of depression exacerbated by feeling lonely and isolated. Some people living with cancer have strained personal relationships that become broken over the course of their illness, thus furthering their isolation. Being diagnosed with cancer can be a traumatic experience that is accompanied by feelings of anxiety, fear, and a loss of control. Many people who are living with cancer feel a sense of social rejection and experience isolation. Patients newly diagnosed with cancer usually have little to no knowledge about cancer treatment and the specific type of cancer they have. This lack of knowledge can contribute to fear, especially of the unknown. 
People living with or recovering from cancer also experience a wide spectrum of emotions, including fear of the cancer recurring. Many cancer patients who have recovered from cancer find that they are expected to talk about their treatment and recovery in an optimistic light while hiding any negative experiences from public view. Instead of reaching out, many cancer survivors will try to move on with their lives and not talk about what they went through. There are many reasons that people living with cancer choose to live in silence without processing the trauma:
Embarrassment

Defensive desire to forget and move on

Fear of being a burden to their relatives

Not wanting to draw attention and evoke pity 

Stoicism, not wanting to be labeled as complainers

Belief that no one can truly understand them
Cancer patients who have broken this code of silence and opened up in cancer support groups have expressed relief in being able to talk about their inner thoughts, fears, and emotions. Some just did not believe they would be able to open up. It is a certain type of freedom to be able to express your deepest fears and anxieties without the expectation of having to stay positive and optimistic about living with cancer.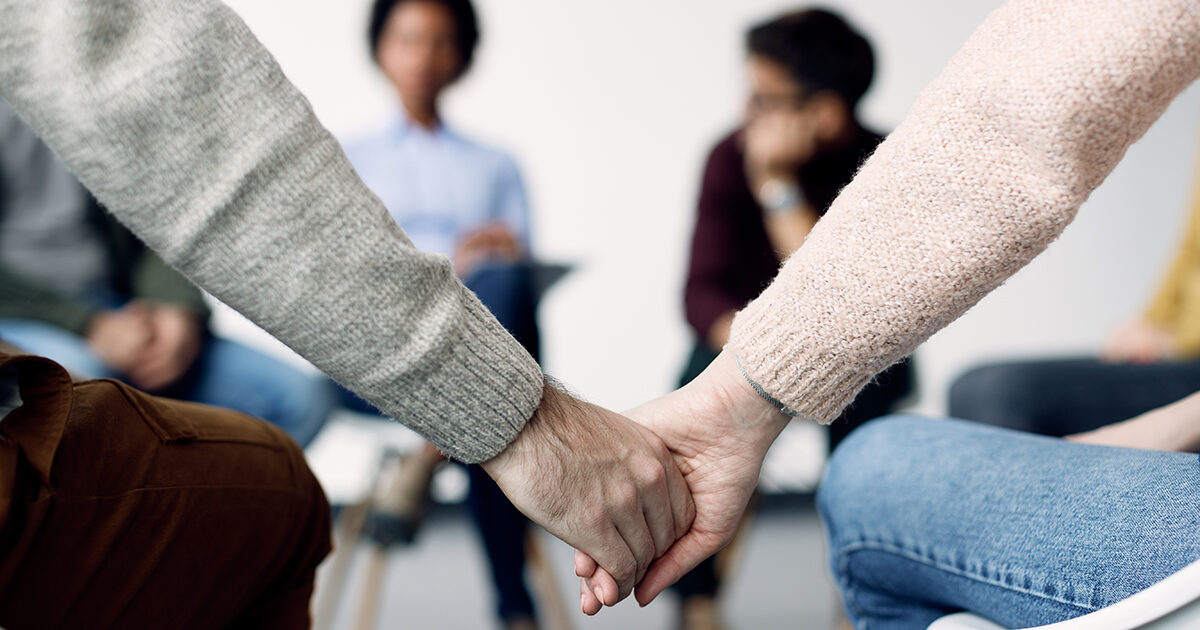 The Positive Impact of Joining an Online Cancer Community
An online cancer support community can help you retain a sense of hope, encourage you through the difficult moments in treatments, and provide a place of openness and understanding that people without cancer cannot offer. You may also gain new insights to treatment and give your own support to others who feel helpless with their new diagnosis. Furthermore, support groups are a forum where you can interact directly with other people who can intimately relate with your life experience. Sometimes you may find that your friends and family seem uncomfortable when talking to you about what you are going through. They may be frightened and not know what to say or do to help you. In a support group, you will find yourself with others who help you work through  suppressed fears and anxieties while validating all the emotions you are experiencing – all under the guidance of a trained moderator. 
Staying positive in the face of adversity can be a huge obstacle when you are feeling hopeless and anxious. In fact, you do not have to stay in a positive place during the course of your treatment. However, if you feel that you are burdened by constant negative thought patterns then now is an excellent time to consider joining an online support community to bring a positive light into your life. Positive emotions play a pivotal role in assisting cancer patients improve psychological and physical outcomes during their treatment and recovery. In your darker moments, you can engage in a dialogue with other group members who can help you see the obstacles you face and lift you up in your times of trouble. 
Harboring Positive Interactions Through Giving and Receiving
The challenges that a person living with cancer face are immense, from psychological burdens of distress and anxiety to physical changes  brought on by treatment and the disease itself. One of the most powerful occurrences in being a part of an online cancer support community is the camaraderie that is built between group members. Each person is able to openly express feelings of doubt, fear, and anger without fear of judgment or reproach. In turn, you will find that you also will lift other group members' spirits with your own words of support and compassion. You also may inspire someone else in the group to open up about their experience by watching you bravely share your deepest emotions. It is truly a group effort in helping each other feel safe and less alone. Helping others also takes you outside of yourself and helps you to feel empowered by your ability to give to others in their time of need, as you have been supported in the same way in the past. 
Attending online cancer support group communities can be a beautiful source of support and positivity in your journey with cancer. There are several online cancer support groups on the internet today, many of which honor the privacy and sanctity of sharing deeply personal subjects in a semi-public setting. Despite the benefits of joining these support groups, it is important you recognize and establish your own set of boundaries while participating in group discussions or chat rooms. If at any moment you do not feel that the group lifts you up, provides valuable resources, or asks for money or donations for joining, leave immediately and look elsewhere. These support communities should serve to boost your morale and assist you through the difficult times of treatment. 
References
Barak, A., Boniel, Nissim, M. & John Suler. (2008) Fostering empowerment in online support groups. Computers in Human Behavior, 24, 1867-1883. Retrieved from PSU.edu: http://citeseerx.ist.psu.edu/viewdoc/download?doi=10.1.1.475.4579&rep=rep1&type=pdf
Grande, G.E., Myers, L. B. & S.R. Sutton. (2006) How do patients who participate in cancer support groups differ from those who do no? Psycho-oncology, 15, 321-344. Retrieved from University of Cambridge: http://www.phpc.cam.ac.uk/pcu/wp-content/files/2012/01/Support-group-paper.pdf
Ussher, J., Kirsten, L., Butow, P., & Mirjana Sandoval. (2006) What do cancer support groups provide which other supportive relationships do not? The experience of peer support groups for people with cancer. Social Science and Medicine, 62, 2565-2576. Retrieved from Elsevier: https://www.sciencedirect.com/science/article/abs/pii/S0277953605005629
Yeob, J., et., al. (2008). Expressing positive emotions with online support groups by women with breast cancer. Journal of Health Psychology, 13(8), 1002-1007. Retrieved from PMC: https://www.ncbi.nlm.nih.gov/pmc/articles/PMC3556825/